Your Beef Check-Off: Working for You
By Chad Ross, Canadian Beef Check-Off Agency Chair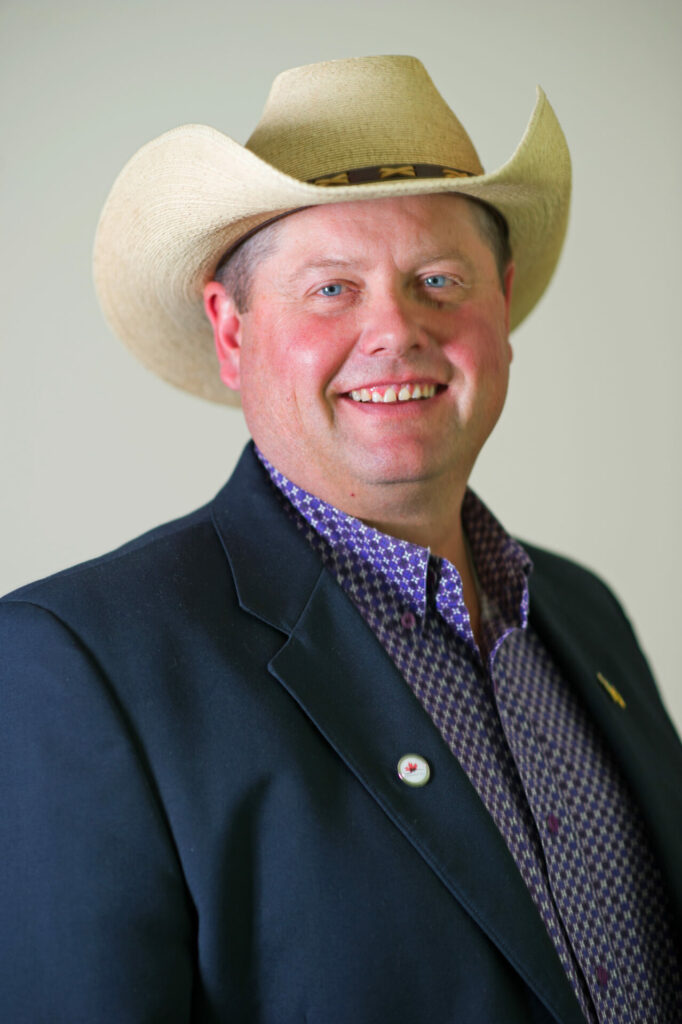 COVID-19 has changed so much of the world we live in, that it is hard to remember what life was like before Zoom calls and social distancing. But the last year and a half has really shown how resilient and collaborative our industry can really be. We have had to adjust how we do business in a lot of ways for our national and provincial organizations, while at home on our beef ranch, we've had to find ways to keep our families, friends and employees safe and still continue to provide top quality beef to Canadians and the world.
Our check-off dollars went to work hard last year, supporting flexible marketing strategies to meet consumers where they were shopping and delivering most, and investing research dollars into projects that helped producers stretch their feed supplies and increase efficiencies while holding on to cattle in a backlogged market situation. Investments into maintaining and growing public support for beef and beef producers was paramount this year, and our industry continues to focus on the science that shows how beneficial cattle and beef really are to our environments and bodies.
Last year, $17.2 million in check-off was collected in Canada, to help drive value for Canadian beef and veal producers. Add that to the $1.2 million in import levy collected, and nearly $19 million was invested into making our industry more efficient and profitable.
We have worked to educate producers, stakeholders and those along the value chain about the collection and remittance of check-off, which has in turn, reduced slippage. Our goal of being a lean organization continues. It is important to us to remain engaged and encourage engagement, an area that remains a priority for us, like it does from coast to coast. We are always looking for ways to change our strategies and remain flexible, making sure to get our message to where producers are.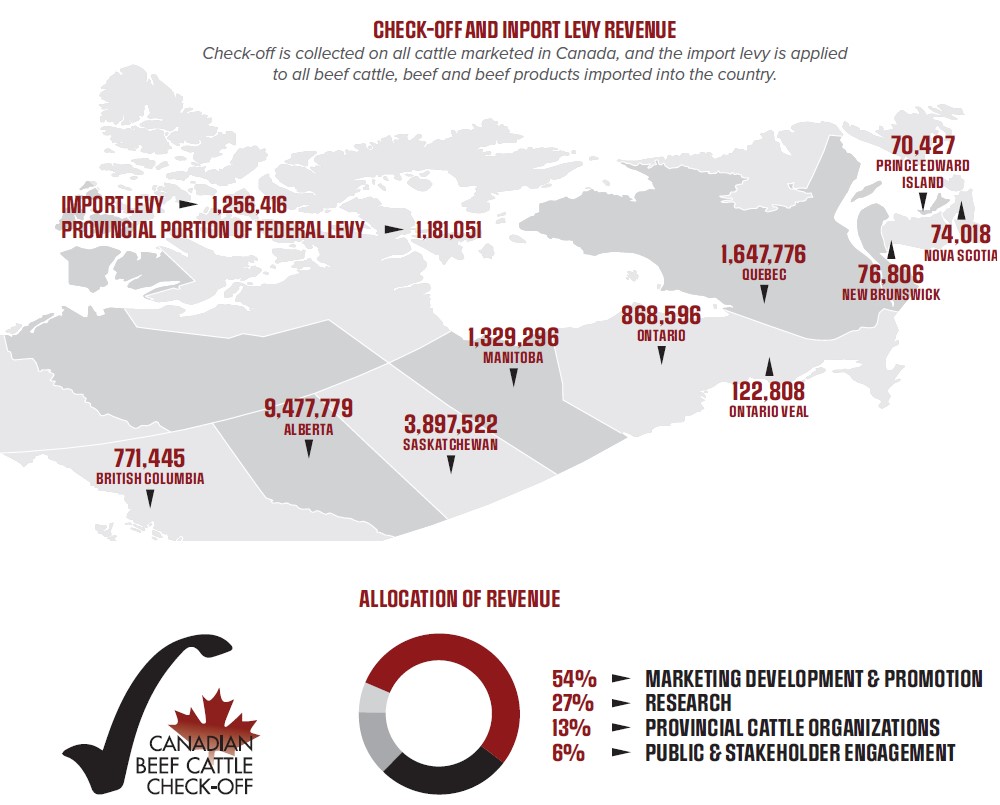 As markets fluctuate and the way we raise and produce cattle changes, so must our strategy for investing check-off dollars. Different points in the cattle cycle highlight the need for different investment priorities for our industry, so we have to be ready to watch for those market signals and remain flexible.
Through the National Beef Strategy, our industry can continue to focus on the priorities that will move us forward together, which includes a funding strategy to meet the goals that will affect the profitability and future of Canadian beef producers. The Strategy recommends both funding allocations for each provincial cattle association, as well as the measurable goals that will continue to pull our industry into the future. And it is the job of our national beef organizations, including our provincial partners and our three national service providers, to help deliver on those measurable goals.
Speaking of our service providers, I have to give each of them a round of applause. This year has not been easy, and they have all stepped up to the plate to continue working for our industry without missing a beat.
At Canada Beef, Michael Young has brought such an impressive leadership style for the marketing arm of our industry. Canada Beef continues to thrive with Michael at the helm, and it is so encouraging to see the marketing strategies being put to work on behalf of our beef and veal producers. It is certainly something to be proud of.
At the Beef Cattle Research Council (BCRC), Andrea Brocklebank has been a rock for our industry. Through crises and prosperity, Andrea has continued to lead the BCRC and the industry's research strategies to do what they do best, which is to help beef producers do what they do best. Under Andrea's leadership, research capacity has been retained and grown, which is an incredible accomplishment for our industry.
Leading the Public and Stakeholder Engagement (PSE) team, Amie Peck has continued to drive new and exciting programs and strategies to share the stories of our industry and our beef and producers with the world. The Guardians of the Grasslands film has been an absolute joy to watch spread across the country, and it makes me feel so good about the hands that we're leaving our industry in.
Our service providers work incredibly hard on our behalf, so be sure to take a moment and thank them for everything they do to drive our industry forward. We are so lucky to attract and retain top talent in the beef industry, and I want them to know how much the beef producers in Canada appreciate the work that they do.
I'd also like to take this opportunity to thank our provincial and national partners for being so engaged with the Agency. It is always a pleasure to work with the board and staff from these organizations, and we continue to foster positive working relationships as we grow. It can be hard to remain flexible and engaged in a world where business has to move forward virtually, but I appreciate the commitment from our friends across the country to work hard for our producers in Canada.
Lastly, I want to thank every one of you who is a part of Canada's beef and veal industry. I know it hasn't been easy and things like profitability, consolidation, public perception and the all mighty dollar often work against us, but when we put our heads down and go to work each day, we know that our industry continues to do what's right for us today, and what's right for our children tomorrow.
Chad Ross
Chair, Canadian Beef Check-Off Agency
Older
Newer