Putting Your Check-Off Dollars to Work through Public & Stakeholder Engagement
This article was written jointly by the Canadian Beef Check-Off Agency and the Public and Stakeholder Engagement Team. It is part two of a three part series.
Already read Part 1: Putting Your Check-Off Dollars to Work through Research? Skip to the section on investing check-off in Public & Stakeholder Engagement here.
The Canadian Beef Cattle Check-off
If you sell cattle in Canada, you pay check-off. Your beef check-off funds beef market development, promotion and research.
The Canadian Beef Cattle Check-Off is deducted on every head of beef cattle marketed in Canada. While the provincial check-off or service fee can vary by province, the national portion of the check-off, most commonly referred to as the Canadian Beef Cattle Check-Off or national check-off, is $2.50 per head in all provinces with the exception of Ontario, currently at $1.00 per head.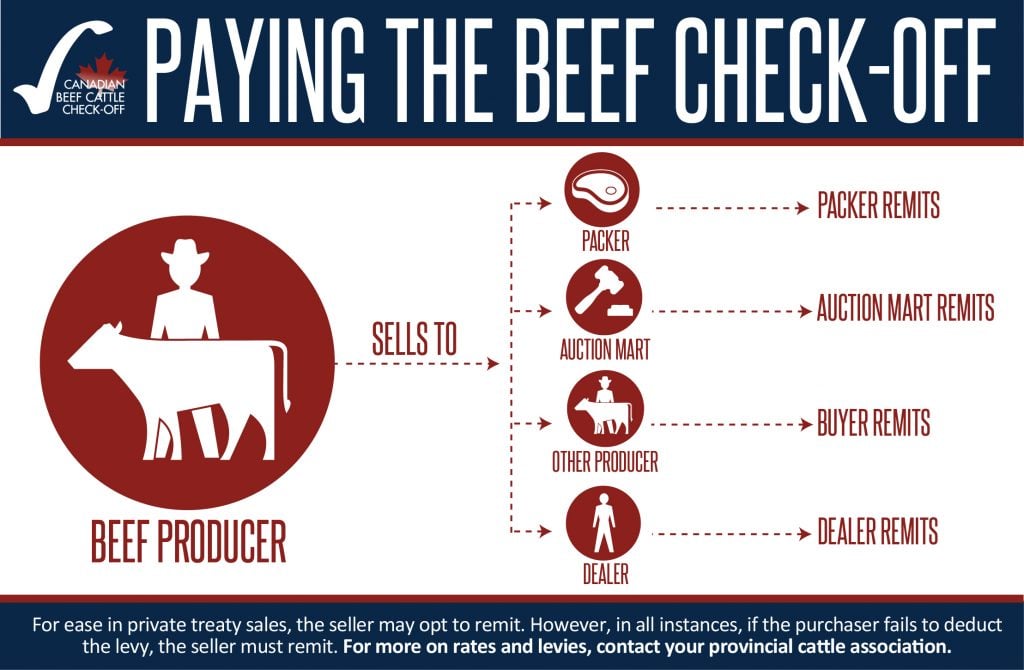 The Canadian Beef Cattle Check-Off is allocated to marketing, research, and public and stakeholder engagement by the provincial cattle associations that remit the check-off. Since each province has unique needs and priorities, each province designates a chosen percentage of the national portion of the check-off from their province that they wish to allocate to each of the three functions (marketing, research, and public and stakeholder engagement).

In 2016, ahead of the increase to the check-off, the Canadian Beef Check-Off Agency commissioned a study, Evaluating the Economic Benefits from the Canadian Beef Cattle Check-Off.  Overall the national check-off showed a total BCR of $14, up from the $9 average between 2005 and 2008. In addition, the average benefit-cost ratio grew steadily between 2011 and 2014.
Within the past five years and a total $46.7 million in check-off collected, just short of $1 million has been allocated to public and stakeholder engagement (PSE), benefiting the Canadian beef industry. This current year, we are expecting PSE program investment at $695,000. The increase can be attributed to both the increase in check-off in most provinces, and adjustments to provincial allocations to PSE.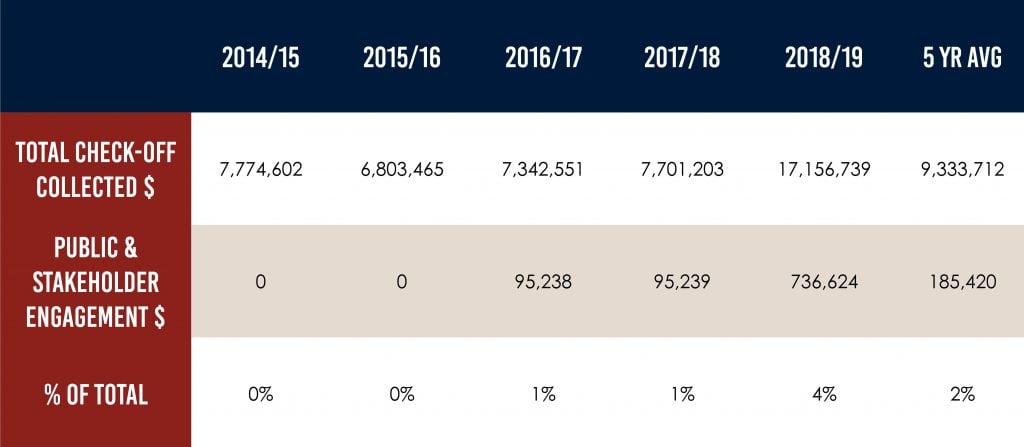 Public and Stakeholder Engagement – Allocation of PSE Funds
Public and Stakeholder Engagement (PSE) works to fulfill the public trust objectives of the National Beef Strategy under the beef demand and connectivity pillars. These include enhancing industry synergies, forming strategic partnerships and connecting positively with consumers and the public by actively addressing industry issues. Under the goal of beef demand, PSE works to increase public confidence in Canadian beef production and ensure a strong social license to operate.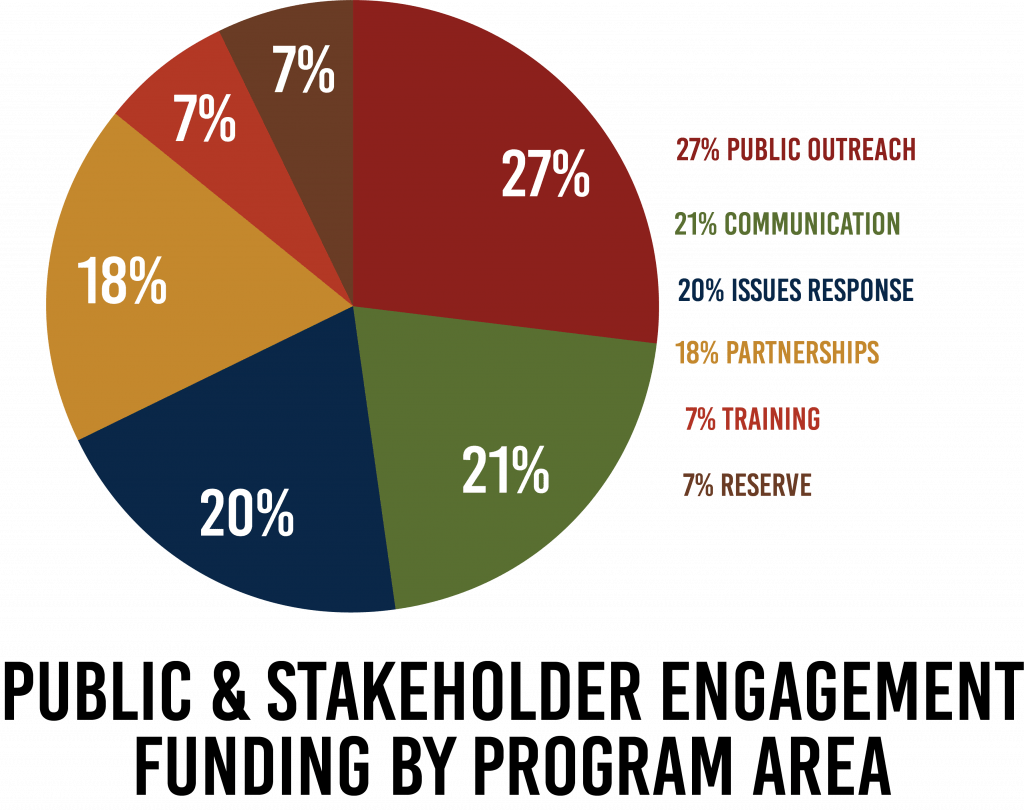 PSE works in close collaboration with Canada Beef as well as the stakeholder groups who participate in the National Communication Manager activities. The in-kind support from stakeholders such as but not limited to; Beef Cattle Research Council (BCRC), Canadian Roundtable for Sustainable Beef (CRSB), Canadian Meat Council (CMC), the National Cattle Feeders Association (NCFA) and the Provincial Cattle Organizations help amplify and deliver messages.
For the 2020-2021 year, the PSE team looks to focus on two key areas of deliverables:
Supporting Issues Response
Proactive Media Strategies & Partnership Investment
Producer Investments at Work
Public Outreach
The PSE program, in partnership with Story Brokers Media House, Ducks Unlimited Canada and the Nature Conservancy of Canada produced Guardians of the Grasslands, a short documentary detailing the vital role cattle play in preserving native grasslands. The film held screening events in Calgary, Regina, Saskatoon, Winnipeg, Ottawa and Toronto in 2019, bringing together varied audiences including conservationists, academics, health and environmental officials and even dieticians and food influencers. A website was created to host information and accept screening requests, of which over 170 have been received to date. Screenings of interest include large events like Agribition and Farm Fair with the film being shown across Canada, the US and even South Africa. A conservative estimate of total views at this point is over 25,000.
However, Guardians of the Grasslands was created with the goal of connecting to urban audiences which resulted in a strategy of submitting the documentary to film festivals. Film festivals represent an excellent opportunity to reach external audiences and non-agricultural media in order to extend the impression of these messages. The film has been accepted into four film festivals thus far: 1 in Montreal, 2 in Toronto and 1 in Vancouver, even garnering best director accolades. We look forward to continuing to leverage this resource to positively connect with stakeholders, media and consumers.
PSE Communications
The PSE program looks to build a strategic communications plan to share key messages and benefits about cattle production with target audiences. This includes our grassroots advocacy platform, Beef Advocacy Canada, which offers training, support and resources for those interested in engaging in industry promotion. To date, over 650 people have registered for the online courses, which includes the new social media modules released in 2019.
To continue to amplify positive messages around the industry, the Content Corral was created. This is a centralized library of social media content designed for beef advocacy. Videos, articles and infographics are collected from around the internet and also exclusively curated for end users to distribute. Content is organized by topic – such as Sustainability or Alternative Proteins – allowing for users to easily find and share applicable content. With advanced features such as post scheduling, Content Corral is designed to reduce the time and energy required to commit to message amplification and beef industry advocacy. Graduates of the Beef Advocacy program are automatically invited to join Content Corral, alongside communications professionals from industry and partner organizations as well as Cattlemen's Young Leaders participants and alumni.
Raising Canadian Beef is an online resource to answer common questions about beef production including the use of antibiotics and hormones and environmental impact. Available in web and mobile versions, this is a great tool for events, tradeshows and school presentations.
Issues Response
For issues that correspond to public perception of beef production, PSE takes the lead on response and acts as a conduit between the industry and the media. We respond to issues by:
Researching and compiling information on current and potential threats
Providing responses to letters, articles and media pieces through appropriate spokespersons
Feed information on what's happening, who's commenting, and how to contribute to other industry stakeholders
Example:

In the summer of 2019, several Tim Horton's locations began to run advertisements from Beyond Meat, coinciding with their product launch, which incorrectly compared the environmental footprint of their products to beef burgers. The PSE team, in connection with Canada Beef and CRSB, utilized well-established connections at the company to discuss how this advertising did not accurately reflect Canadian beef production, of which Tim Hortons has long supported. The chain pulled the advertising from its locations shortly after.
Partnerships
Building new and existing relationships with industry partners is vital to the success of the PSE program. This includes our membership with the Canadian Centre for Food Integrity which provides research on Canadians' attitudes towards food production and are an important voice for the industry. We have also partnered with the public outreach pillar of the Simpson Centre for Agricultural and Food Innovation and Public Education, which works to strengthen public education and independent dialogue around food and agriculture by delivering fact-based research to the public. As well, PSE works closely with AgScape and Ag in The Classroom to provide resources, tools and expertise on topics around beef production. These partnerships amplify our efforts in disseminating beef industry information and resources.
Training
We work to provide specialised media training for spokespersons and those employed in the industry who participate in radio, tv and print interviews with journalists and reporters. In 2019, two media training sessions were coordinated by PSE in Calgary and Saskatchewan resulting in 16 trained participants.
How You can get Involved
Stay up to date with the latest on Guardians of the Grasslands on our website. Register today for Beef Advocacy Canada courses and upon graduation you will have access to Content Corral.
Have a concern about a published article or video that you would like to bring to our attention? Please fill out this short form.
Interested in becoming an industry spokesperson or media training? Contact Stina Nagel at nagels@cattle.ca The PSE program regularly provides updates for both Action News and the Gatepost.
Get in touch with us today!
Older
Newer