Beef Steps Up: National Consumer Campaigns aim to put the Spotlight on Beef
In the wake of increased competition in the meat protein category, Canada beef is stepping up to ensure Canadians understand the importance of beef in a well-balanced diet. Canada Beef has launched two complementary consumer campaigns that aim to counter some of the negative narratives about beef with a renewed emphasis on the positives of this nourishing and sustainable Canadian food classic.
The two campaigns, called The One & Only Beef, and My Canadian Beef Story, have been designed to dispel some of the misperceptions about beef. The campaigns also celebrate that beef belongs in a healthy diet as a single ingredient, sustainably raised, foundational food.
"There are so many compelling reasons to choose beef and support Canadian beef farmers and ranchers. We want a chance to tell our story and allow consumers to make a choice for themselves," says Ron Glaser, Vice President, Corporate Affairs at Canada Beef. "As part of the campaign, consumers will hear stories from authentic voices across Canada, including beef producers, dietitians, chefs and sustainability partners."
Dubbed 'Project Crave', The One & Only Beef campaign operates under the ThinkBeef.ca marketing platform with a sense and sensibility approach. It does not engage in data and stats or far-reaching claims, but rather focuses on the culinary crave qualities that beef effortlessly delivers.
Meanwhile, My Canadian Beef Story enlists beef farmers, cooks and dietitians to share their stories, focusing on nutrition, practical family meals, the pride of raising beef and the importance of beef farming and ranching to Canadians.
Both campaigns serve to remind consumers that beef plays an important role at our tables and in our communities. Additionally, they highlight the tireless work of Canadian beef producers who implement the best farming practices to raise our food responsibly.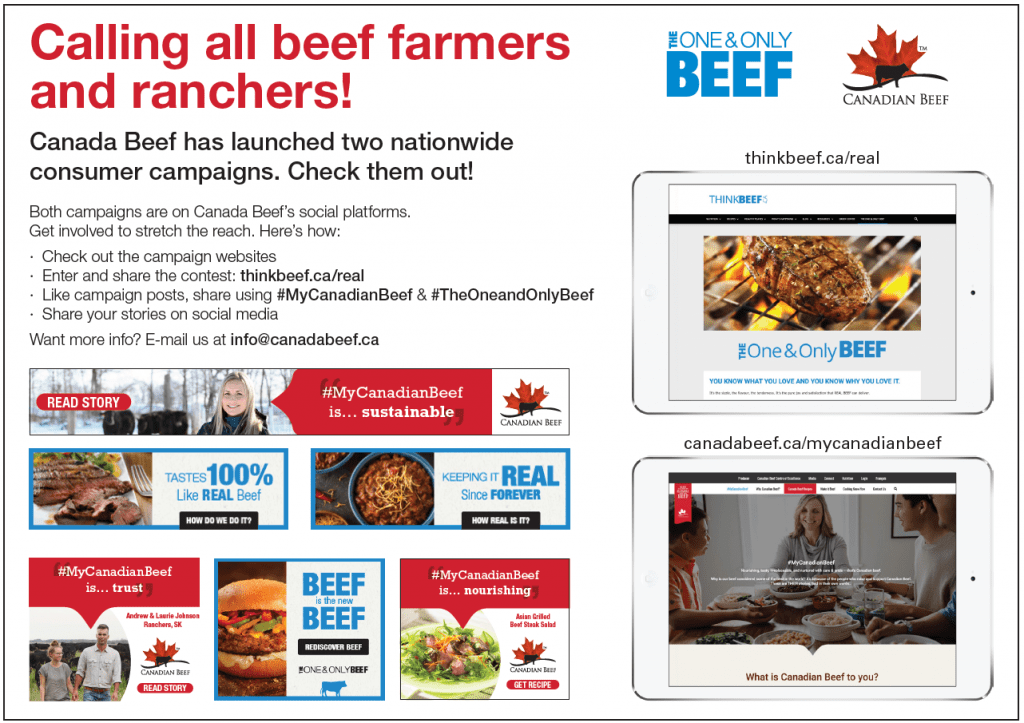 "It's time to peel back the curtain and show people how Canadian beef is raised and how it can contribute to a sustainable food system," says registered dietitian Erin MacGregor R.D. P.H.Ec. from How to Eat. "There's a lot of misinformation about beef and agriculture in general. It's important for people to hear some of the untold stories about the value of beef."
"Canadian beef is an important component of our economy and rural communities" says Jill Harvie, a beef rancher from Alberta. "I think that it's hard for people to conceptualize how much work goes into raising cattle and how many facets are tied to it. In the rural landscape, cattle ranching is the backbone of so many small communities. Without it, you really wouldn't have the grocery store, the church or the clothing retailer. Beef plays an important role in the livelihood of rural communities."
Fourth generation cattle rancher and registered dietitian Paige Hayes also weighs in on the topic. "As one of nature's most nutrient dense protein foods, beef's nutritional benefits are unique. It contains high quality protein in an appropriate portion size, and it's also one of our best sources of iron, vitamin B12, and zinc. Beef is a protein powerhouse."
Hayes cites that beef provides a number of essential nutrients for a modest portion size and calorie contribution:
Compared to chicken, beef has 200% more iron, 600% more vitamin B12 and 700% more zinc.
One serving of beef (100 g at 245 calories) has the same amount of protein (35 g) as ¾ cup of almonds (at 960 calories).
And on average, Canadians get only 5% of their total calories from red meat, while 50% comes from ultra-processed foods.
To learn more, visit www.canadabeef.ca/MyCanadianBeef or www.ThinkBeef.ca/Real to find nutritional information, recipe ideas and facts about raising Canadian beef from producers, dieticians and cooks.
Older
Newer