Canadian beef partners launch campaign highlighting University chefs and Canadian beef farmers
"Across the country, college and university chefs feed thousands and thousands of students every day. For chefs and students, it is all about nutrition, affordability and taste—students say the reputation of an institution's foodservice influences their decision to apply for admission. This has resulted in institutions hiring some of the most skilled chefs around," according to an article in the Toronto Star.
The 2020 school year looked very different from past years and school chefs had to pivot within their role. Recognizing an opportunity, the team at Star Metroland (a group of digital and print publications across Canada) presented an interesting proposition to highlight some of Canada's college and university chefs along with Canadian beef farmers and ranchers. Canada Beef teamed up with the Canadian Cattle Association's Public and Stakeholder Engagement team and the Canadian Roundtable for Sustainable Beef on this digital and social media project.
The Cooking by Degrees campaign, published in the Star Metroland family of newspapers, featured recipes submitted by university and college chefs, highlighting their favourite Canadian beef cut. In the articles, chefs talk about how they develop their menu items and how they include Canadian beef on their menus. The sixteen recipes are an interesting mix of different cuts of beef.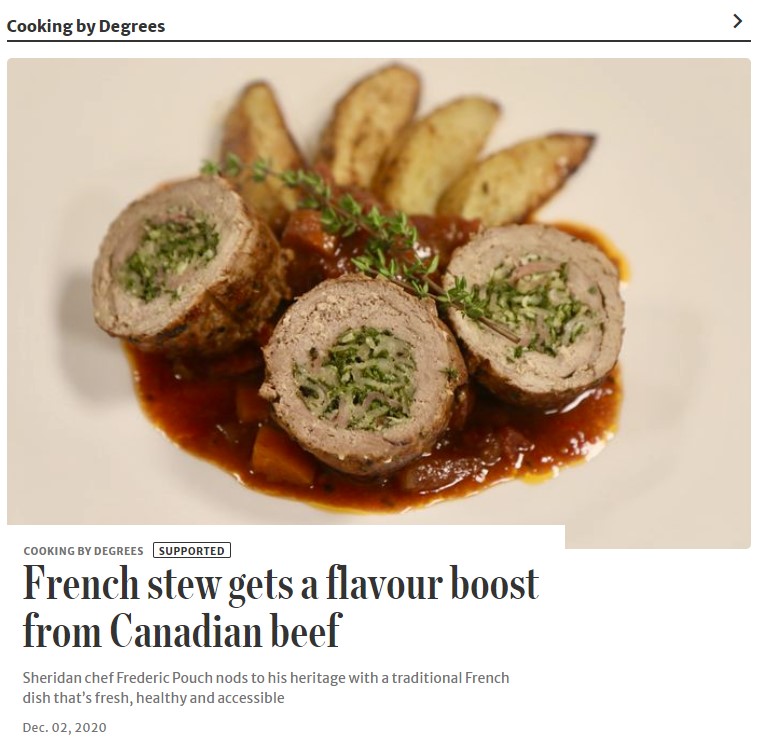 To add a unique perspective to these articles, well-known agriculture reporter and Guelph University Professor Owen Roberts, interviewed Canadian beef producers across Canada to round out each article and provide readers with a fresh perspective on the farmers who raise and grow their food. These beef producer articles focused on the sustainability aspect of beef farming, educating readers about how beef farmers care for their animals and the environment.
"This was a unique opportunity to showcase the on-the-ground story of Canadian beef, a global leader in sustainable beef production, with Canadian consumers. We were able to highlight the important connection between the farmers and ranchers dedicated to raising local Canadian food responsibly with the [verified] sustainable practices increasingly demanded by Canadian consumers," says Andrea White, Community Engagement and Marketing Manager, Canadian Roundtable for Sustainable Beef.
Amie Peck, Stakeholder Engagement Manager, Canadian Cattle Association notes that "alongside these farmer profiles are the chefs who elevate that food into delicious, innovative experiences that we can re-create from the comfort of our homes. It was exciting to see the passion for raising Canadian beef cattle through the eyes of farmers and ranchers, which is so important for building public trust, align with the passion of these chefs in delivering delicious eating experiences."
Maryjo and Rob Tait of Celtic Ridge Farms near Dutton, Ontario were interviewed for the feature. The Tait family raises 120 beef cows and calves on their 200-acre farm. One way they sustain their operation financially is by selling most of their beef through their own meat shop. On-farm sales soared when the pandemic struck, replacing the huge market they lost when restaurants were forced to closed.
"Many people hadn't thought of buying beef from a farm before," says Maryjo Tait, "but when it became harder to get it in a grocery store, they started taking a real interest in where their food comes from and looked for other trusted places they could get it, like from beef farmers."
One BC ranching family featured in the Cooking by Degrees series is the Seelhof family of Woodjam Ranch near Horsefly, outside of Williams Lake. Their many measures to make its vast operations more eco-friendly caught the attention of the Canadian Cattle Association. Last year, the Seelhofs won CCA's national environmental stewardship award for implementing exemplary conservation practices.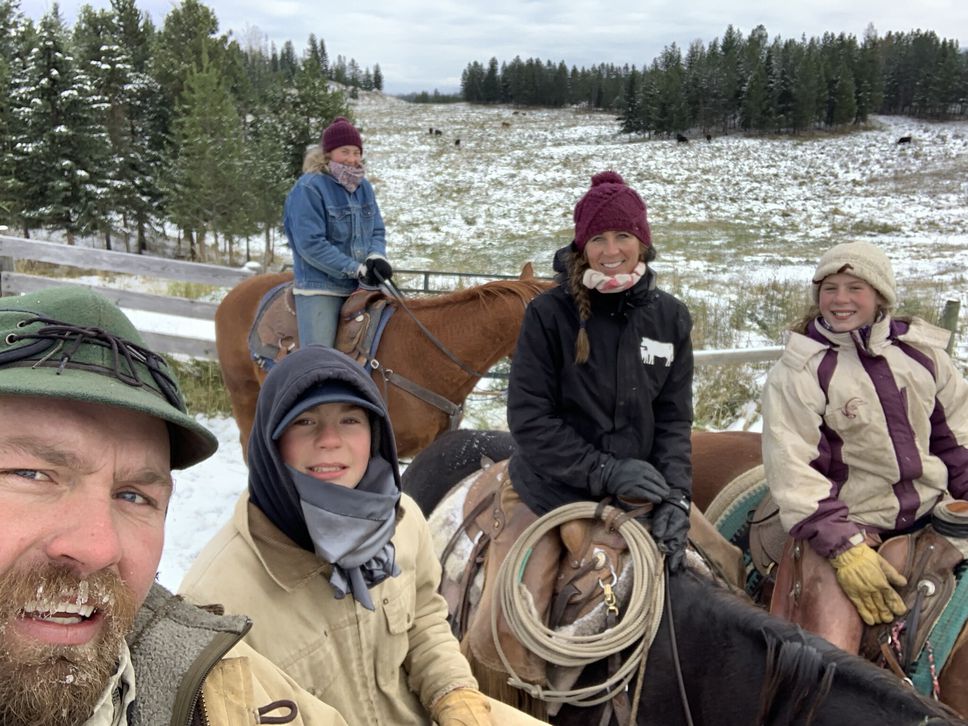 The Seelhofs have fenced more than 30 kilometres of ponds and water courses to keep their 500 Angus beef cattle from wading in. They've also worked on riverbank restoration to alleviate flooding that often accompanies spring rains. And much of the land at Woodjam Ranch— and that of the 80,000-acre grazing range they adjoin—is rocky and hard to navigate. That's the beauty of growing grass for cattle to eat.
"Grain or fruit and vegetables just can't be produced on some of our soil," says Ricky Seelhof, "but grass does fine. We're in the heart of nature, and we want to sustain it."
Alberta ranchers Jill and Kelly Burkhardt raise 250 Hereford-Angus cattle on her family's Crooked Lake Farm near Gwynne. The Burkhardts manage their pastures with a keen eye. They've returned non-productive crop land to pasture, and watched native grasses and vegetation, such as Saskatoon berries, make a comeback. They've also worked with Ducks Unlimited to preserve parts of their land as low-lying slews, to offer habitat for migrating and year-round waterfowl.
Jill, who has a degree from Montana State University in range management, says she and Kelly are in this for the long haul. "Sustainability rings a bell with everyone," she says, "including ranchers."
In addition to featuring the sustainable efforts made by beef producers, Roberts talked to family-owned Shipwheel Cattle Feeders. Located in Taber, Alberta they tend to about 5,500 beef cattle.
While feedlots produce a lot of manure in a confined area, in Shipwheel's case, owner and manager Andrea Stroeve-Sawa turns it into 20,000 tonnes of compost. It gets sold to neighbouring farms and incorporated into about 2,500 acres of farmland.
Shipwheel's sustainability efforts began in 1980, when Stroeve-Sawa's father Blake Holtman converted their conventional continuous grazing system into a more environmentally sound, adaptive multi-paddock grazing system.
"We're now sequestering in our grassland soils the CO2 equivalent to the emissions of about 13,000 vehicles a year," she says. "We take sustainability seriously."
The Cooking by Degrees online campaign launched December 2, 2020, runs for 16 weeks and will live permanently on the Cooking by Degrees page on thestar.com website, which has a large readership in urban centres across Canada. This opportunity to share information about Canadian beef and the producers who provide it was a perfect fit for this audience.
Each partner created digital ads to enhance the articles through strong call-to-action topics to drive readers to click for further information. Canada Beef also wrote survey questions to further engage readers with the website content. Preliminary results show that the campaign has already received over 10,000 page views. Readers are also spending a higher than average time on the site, (around 3 minutes compared to the average of 2 minutes) which indicates they are reading the articles. The digital ads are also performing about 2.5 times better than other sponsored content ads with a click-thru-rate of 6.4%.
"This campaign is successful on a number of levels," says Michele McAdoo, Executive Director, Communications, Canada Beef. "The articles provide interesting information about beef cuts and recipes as well as sharing beef producer stories and highlighting their sustainability efforts. The digital ads drive readers to learn more about the industry and about preparing beef–given the outstanding results, the campaign has really resonated with readers."
Older
Newer