Canada Beef launches campaign to promote Canadian Beef Grades
Canada Beef has launched an advertising campaign to promote the Canadian beef grading system. The campaign is designed to educate consumers and trade professionals about the quality and value offered within Canada's top three beef grades—AA, AAA and Prime.
"Now is the perfect time for Canada Beef to promote the Canadian beef grading system in light of increased imports, higher retail prices and strong competition from lower-valued imported beef and the other protein choices available in today's marketplace," says Michael Young, President, Canada Beef.
The three grades highlighted represent approximately 97% of commercially graded beef production in Canada. The theme of the campaign, "Ask for the Good Stuff," encourages consumers to look for the grade when buying Canadian beef. Understanding what beef grades represent will help consumers choose the product that is right for them and improve overall consumer satisfaction.
The ad includes a "Grade Expectations" section which features a description of the attributes of each grade. This is the first time that the Canada AAA (top tier) grade selected specifically for premium quality brands is being highlighted.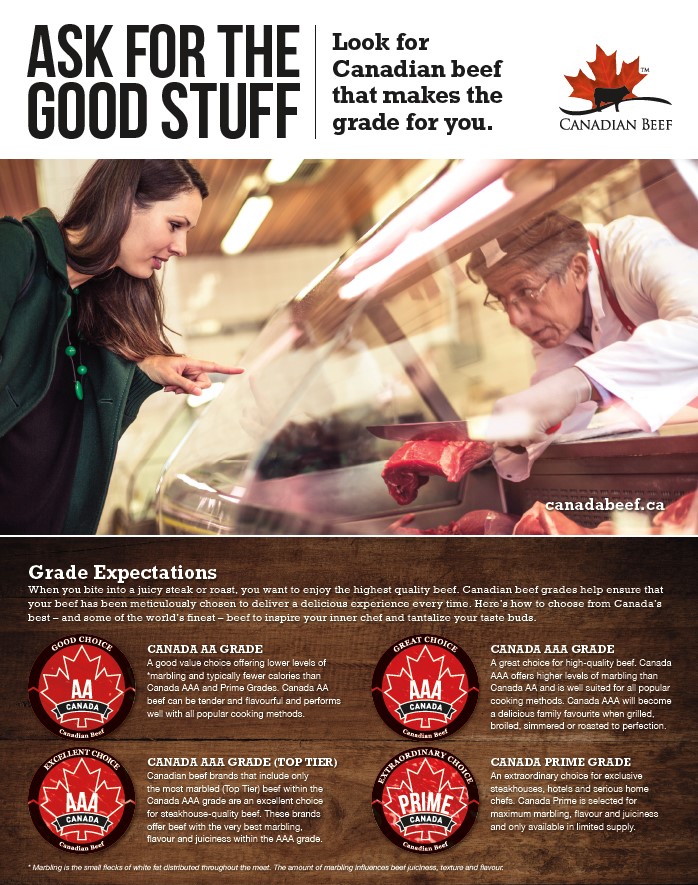 This first phase of the campaign is directed at consumers and the full-page ad is featured in the spring issue of popular Canadian publications including Readers Digest, Chatelaine, Canadian Living, Macleans magazine, House and Home, Style at Home, Savour Calgary, Western Living, East Coast Living, and Foodism magazine. There is also a digital campaign running on the Narcity and Daily Hive websites.
Phase two of the campaign will target meat and culinary trade professionals. In addition to the grading information, this ad will also highlight the marketing resources available to promote Canadian graded beef programs to their customers. "We want to support industry in their efforts to offer Canadian beef programs that feature Canada's best and some of the world's finest graded beef to their customers," adds Young.
Phase three of this campaign will extend to the export marketplace as the global pandemic recedes and favourable market conditions return.
Watch for the Grade Expectations ad in your favourite Canadian consumer magazines in the March and April issues.
Older
Newer