Agency director wins national environmental award
The Canadian Cattle Association (CCA) is pleased to announce The David Francis Farm, of Lady Fane, Prince Edward Island (PEI) as the recipient of the 2017 The Environmental Stewardship Award (TESA). The seventh-generation farm is operated by father and son team David and Brett Francis and families.
Soil conservation remains a primary focus at the potato and 80 cow-calf beef operation, with David and his wife, Vicki Francis, and their five children, having made continual improvements to the land during nearly four decades of farming. They have installed thousands of feet of soil conservation features, while respecting the land they farm and the natural environment surrounding their designated Century Farm.
CCA Environment Committee Chair Bob Lowe said the David Francis Farm's longstanding commitment to soil conservation, reflected in investments in sustainable agriculture practices and modern technology to ensure a sustainable farm for generations to come, is what earned the Francis families the 2017 TESA.
"Through sharing his extensive knowledge about sustainable agriculture practices, David has played a major role in raising public awareness about sustainable agriculture and encouraging many farmers to participate in stewardship activities," Lowe said. "This, along with the Francis family's commitment to managing the sandy soils in a manner that benefits their environments, while also meeting and in some instances exceeding strict environmental regulations, demonstrates the commitment to sustainability that the TESA embodies."
Lowe presented David Francis with the 2017 TESA this evening at the Canadian Beef Industry Conference (CBIC) in Calgary, AB. David, on behalf of his wife Vicki and son Brett and family, expressed sincere gratitude as he accepted the award, a sterling silver TESA belt buckle and local artwork. David acknowledged the other nominees "I'm sure they just pulled a name out of a hat. They are all wonderful farmers," he said. "I'd like to thank the Cattlemen's Association, It's truly an honour."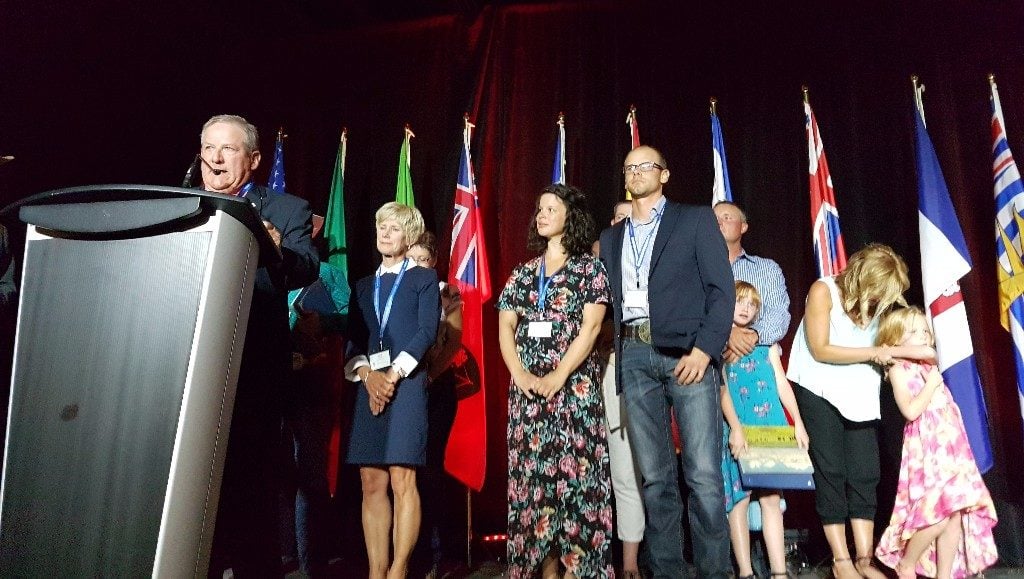 Older
Newer