Three retail programs to help Canadians buy beef
The COVID-19 pandemic has been complicated in many ways by uncertainty. Rolling plant closures and slowdowns are challenging the Canadian supply chain to keep the meat case stocked. The Canadian beef and veal industry is working hard to protect the health and safety of their employees and provide the product assortments Canadians are looking for today in the meat case.

Over the last seven weeks, there has been price volatility and out of stock situations for many items in the meat case resulting from a major shift from foodservice to retail and primary supply disruptions. Consumers are grabbing up beef items they have never bought before and seeking preparation and recipe ideas to stretch the food dollar. Canada Beef website traffic is up 107%. Top searches includes "How to Cook a Beef Roast".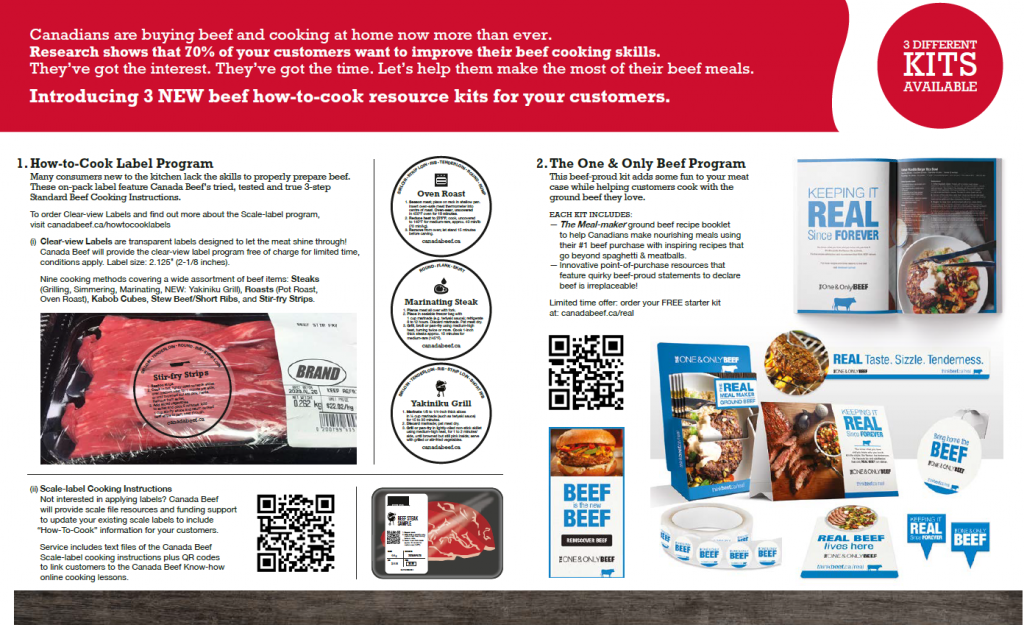 To support consumer needs for recipe and preparation information that will help your customers enjoy expanded repertories of Canadian beef and veal at home, Canada Beef is offering three how-to-cook programs* for the retail sector:
1. How-to-Cook Labeling Program
Nine cooking methods covering a wide assortment of beef items in your meat case. Available as clear-view labels or copy file to update your scale price tag labels. (click here to order)
2. The One & Only Beef Program
Focusing on family favourites and new ideas for enjoying ground beef and veal at home. (click here to order)
3. Independent Retailer Operator's Program
Offers a consumer guide handbook on how to buy and cook Canadian beef and veal and impactful POP materials for smaller operations. (click here to order)
All three programs are available now and complimentary (conditions apply). Looking for more information? Visit www.canadabeef.ca.
* All labels are in production and will be available for distribution end of May
Older
Newer